So you find us:
Virtuell haben Sie den Weg zu uns schon gefunden. Das freut uns natürlich. Und damit Sie uns auch ganz reell besuchen können, halten wir hier eine Anfahrtsskizze für Sie bereit. Das Herz steht für Riad Rose Des Vents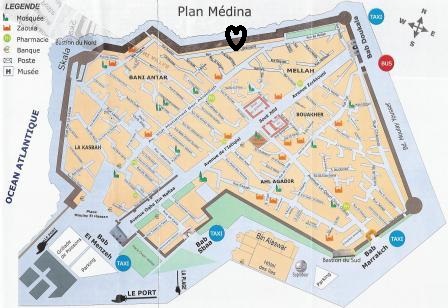 Please go to the Bab Marrakech and park there (guarded, 20 DH / day): Arriving by car
Arriving by bus: the public Bubahnhof located to the east of the Medina, about 1 km away. It is advisable to take a minicab to Bab Doukala. SUPRA TOURS has a terminal not far from Bab Marrakech
.In All cases, we are happy to assist you in finding and also the transport of luggage. If possible, call us approximately 1 hour before arrival.